ALL THE INFORMATION CONCERNING RANGE.
For an electric vehicle it is not only important to consider how fast and safely it travels, but also how far it will take you. In this consideration, the range of an electric vehicle also depends on factors such as the speed, driving style and outside temperature as well as the use of the air conditioning or seat heating. These are factors that we cannot calculate. But all the others we can. Here you can find out all about the ranges of our electric cars and plug-in hybrid vehicles.

Read more
FAQ ON THE RANGE OF ELECTRIC CARS.
What is the range of an electric car?

How do the ranges differ between hybrid vehicles and electric cars?

Can the battery of an electric car be replaced to achieve a greater range?

What is a range extender and is it put to use in electric cars?

Is the range of an electric car adversely affected by sub-zero temperatures in winter or by heat?
EVERYDAY CHARGING.
Everyday charging covers charging operations in everyday activities in public areas, at home or at work. A sample scenario of everyday charging could take the following form: usually you charge your vehicle at home overnight from the Wallbox or simply from a domestic socket using alternating current (AC). This already provides you with more than enough energy for your everyday journeys, such as the route to work, the shopping trip in between and visits to restaurants after work. In these activities, you are not reliant upon public charging stations. If required, though, you will find charging facilities both on your route and in public places, where you will enjoy additional privileges such as free parking during the charging process. The mobility services of BMW Charging make searching for and using charging stations even more convenient. It guarantees that you will always reach all your daily destinations in comfort.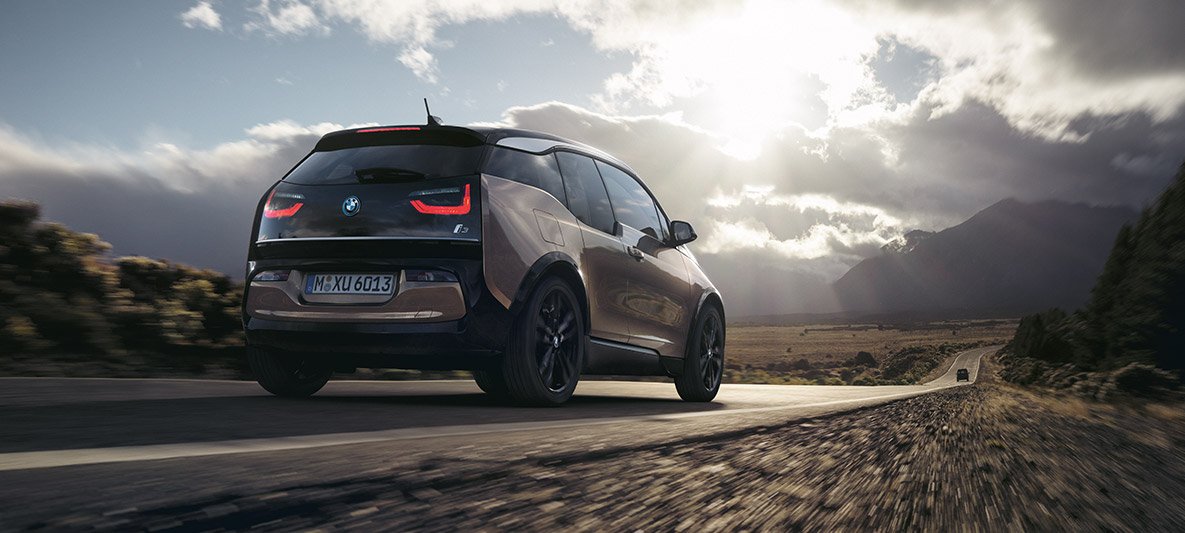 RANGE EXAMPLE.
Imagine you live in Munich, but want to travel to Berlin for professional or private reasons in your BMW i3. No problem! Just a brief search with your BMW navigation system or the BMW Connected App is all it takes to plan the itinerary. Lining the fastest possible route and available at regular intervals are five charging stations, of which two offer high-power charging. After 90 to 150 kilometres and a journey time of approx. 1 to 1.5 hours, you thus have the option of calling in at one of the specified service areas with a charging station. Here you can briefly stretch your legs or grab a coffee while the vehicle is charging. After a stop of 20 to 30 minutes, you can then resume your journey in a relaxed manner. After approx. 8 hours, you will arrive at your destination in Berlin – and all of this free of stress and with maximum efficiency.

​
FUEL CONSUMPTION AND CO2 EMISSIONS.
BMW i3 (120 Ah):
Fuel consumption in l/100 km (combined): 0
CO2 emissions in g/km (combined): 0
Electric consumption in kWh/100 km (combined): 14.2

BMW i3s (120 Ah):
Fuel consumption in l/100 km (combined): 0
CO2 emissions in g/km (combined): 0
Electric consumption in kWh/100 km (combined): 14.7

The values of fuel consumptions, CO2 emissions and energy consumptions shown were determined according to the European Regulation (EC) 715/2007 in the version applicable at the time of type approval. The figures refer to a vehicle with basic configuration in Germany and the range shown considers optional equipment and the different size of wheels and tires available on the selected model.

The CO2 efficiency specifications are determined according to Directive 1999/94/EC and the European Regulation in its current version applicable. The values shown are based on the fuel consumption, CO2 values and energy consumptions according to the NEDC cycle for the classification.

For further information about the official fuel consumption and the specific CO2 emission of new passenger cars can be taken out of the "handbook of fuel consumption, the CO2 emission and power consumption of new passenger cars", which is available at all selling points and at https://www.dat.de/angebote/verlagsprodukte/leitfaden-kraftstoffverbrauch.html.