THE LATEST BMW 5 SERIES.
The BMW 5 series is the epitome of a sporty and comfortable business sedan. The vehicles combine the equipment options of their time with dynamic driving characteristics made possible by perfectly coordinated suspensions and powerful efficient engines. An elegant look guarantees an appropriate appearance for any situation.
BMW 5 SERIES OVERVIEW.
The BMW 5 series continues the concept of the "New Class": dynamic vehicles in a modern design, equipped with technological innovations, powerful engines and comfort features from the luxury class. For half a century, optical elements such as the double kidney grille or the "Hofmeister kink" on the C pillar have been style-defining and trademark elements of the sporty business sedan. The BMW 5 series is also the first vehicle from BMW that introduces the new nomenclature of the various series. The first figure indicates the series, the other two figures provide information on the engine. All future series use this naming system. In 1975, the BMW 3 series adopted this principle, in 1976 the BMW 6 series and in 1977 the BMW 7 series.
Read more
5 CHARACTERISTICS OF THE BMW 5 SERIES.
01

Impressive driving dynamics

02

Elegant, modern optics

03

Comfortable and elegant interior

04

Pioneering technologies

05

Best link to all services thanks to BMW ConnectedDrive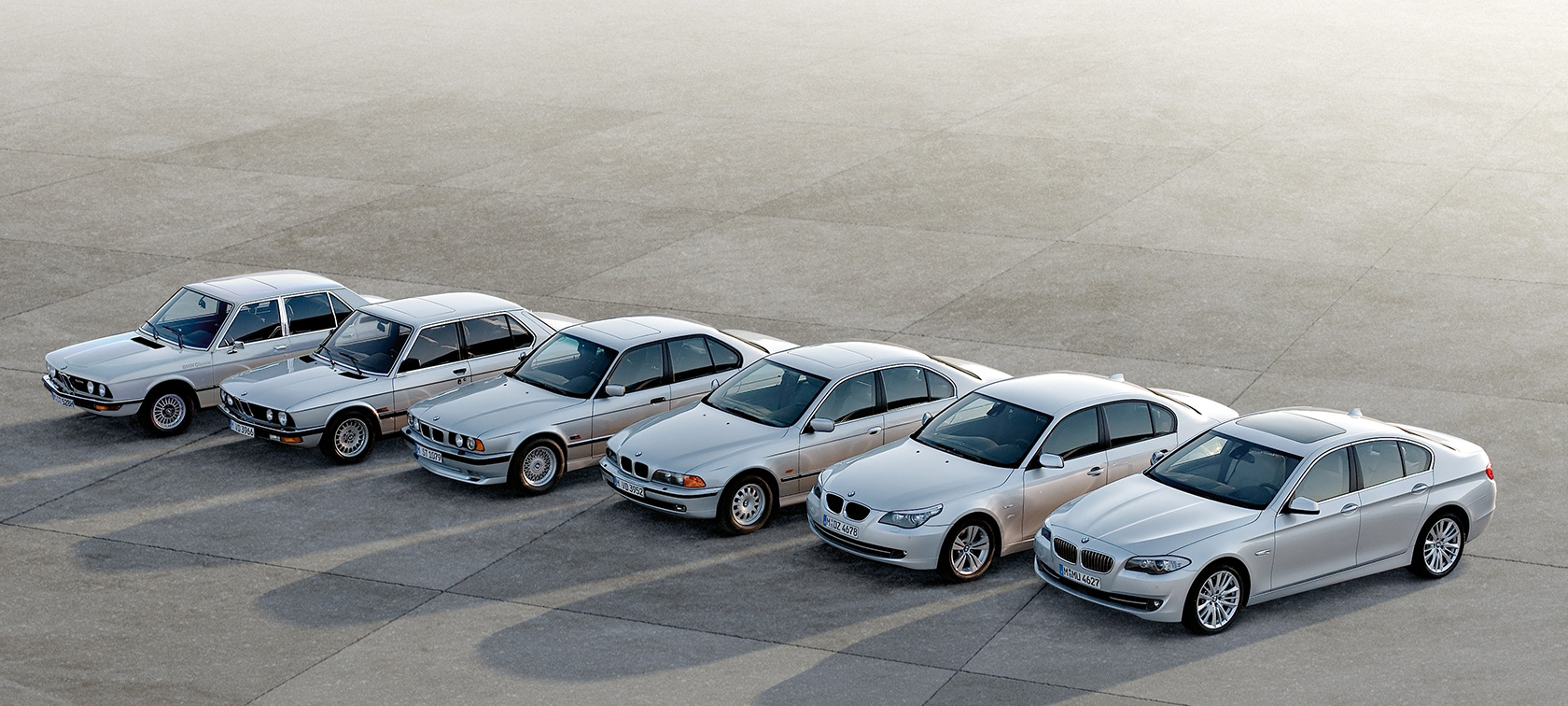 A BRIEF HISTORY OF THE BMW 5 SERIES.
Half a century of the BMW 5 series – the vehicle is a pioneer of its class from the outset and represents the pinnacle of business sedans throughout the world. Find out more about the history of the BMW 5 series.
Read more
A BRIEF HISTORY OF THE BMW 5 SERIES.
​
Fuel consumption and CO2 emissions.
The values of fuel consumptions, CO2 emissions and energy consumptions shown were determined according to the European Regulation (EC) 715/2007 in the version applicable at the time of type approval. The figures refer to a vehicle with basic configuration in Germany and the range shown considers optional equipment and the different size of wheels and tires available on the selected model.

The CO2 efficiency specifications are determined according to Directive 1999/94/EC and the European Regulation in its current version applicable. The values shown are based on the fuel consumption, CO2 values and energy consumptions according to the NEDC cycle for the classification.

For further information about the official fuel consumption and the specific CO2 emission of new passenger cars can be taken out of the "handbook of fuel consumption, the CO2 emission and power consumption of new passenger cars", which is available at all selling points and at https://www.dat.de/angebote/verlagsprodukte/leitfaden-kraftstoffverbrauch.html.